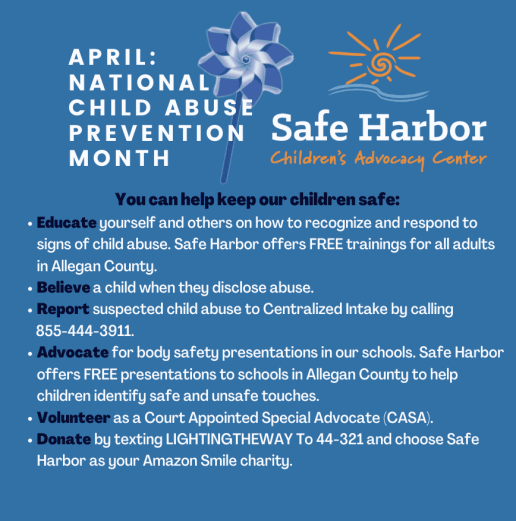 April is Child Abuse Awareness Month
Since 1985, April has been recognized as National Child Abuse Awareness Month. During this month, and every month, we encourage people to help us spread awareness by planting pinwheels in Allegan, Barry, and Van Buren Counties and the surrounding areas.
Pinwheels are used as the national symbol of child abuse prevention. They represent a hopeful, happy and carefree childhood. For this reason, organizations across the nation and Safe Harbor host Pinwheel Gardens to raise awareness.
You Can Help Prevent Child Abuse
Join us April 11th, 2023 at 11am!
Safe Harbor's Pinwheel Garden:
April is Child Abuse Prevention Month. Please join Safe Harbor at our annual Pinwheel Garden Event where we will be planting "Pinwheels for Prevention" at our new location to increase awareness of child abuse and neglect in our community.
Date:
April 11th, 2023
Location:
Safe Harbor CAC – 404 Sherman Street Allegan, MI 
For questions about our pinwheel garden contact Madyson Whitehouse at development@safeharborcac.org or call 269.673.3791
Resources and information about National Child Abuse Prevention Month: